CAZIQUES, QUIXOTRY, BEZIQUE and MUZJIKS. Wait, those are words? Not only are they words but they are the record holding words played for:
Highest single play (SOWPODS) – CAZIQUES
Highest single play (OSPD) – QUIXOTRY
Highest opening move score (SOWPODS) – BEZIQUE
Highest opening move score possible (OSPD) – MUZJIKS
If you're wondering what the heck SOWPODS and OSPD are, don't fret I'll get to that later. In the mean time if I haven't destroyed your mind or your ocular sensory and have piqued your interest instead you will now promptly install Scrabulous on Facebook if you haven't already.
Developed by Jayant Agarwalla and Rajat Agarwalla, Scrabulous (also found at scrabulous.com), for all intents and purposes, is Scrabble©. While its not technically Scrabble© (trademark ™ of Hasbro) it uses Scrabble© rules, official Scrabble© tournament dictionaries and the exact Scrabble© board. How they do it, I don't know nor do I care, I just want to play.
Scoring and Play
The game uses a points system that combines numerical values assigned to each letter tile as well as point multipliers (2x letter, 2x word, 3x letter, 3x word) arranged throughout the 15×15 grid game board. If you can play all 7 of your tiles in a single turn you are awarded an additional 50 points on top of the word's normal score! This is commonly referred to as a Bingo.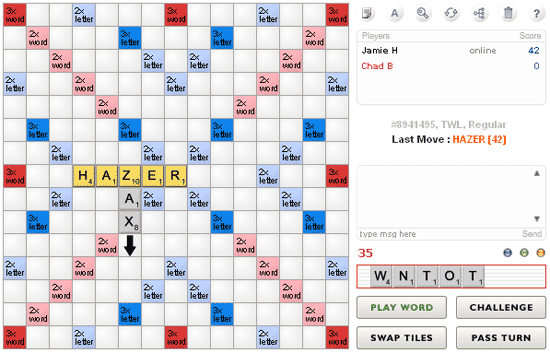 Scrabulous can be played with a minimum of 2 and maximum of 4 players. To start the game is simple but what lies within the world of Scrabulous is a game of mystery, deceit, trapping, blocking, theft, treachery, defense, offense, and.. The most important aspect, vocabulary! Don't be fooled by words and words alone, Scrabulous is most definitely a game of strategy.
Words are formed left to right, top to bottom; similar to a crossword puzzle. No diagonal words or backwards spelling allowed, unless of course it's a palindrome! Each word must consist of a minimum of 2 letters and must appear in the dictionary/wordlist your game is using. On each turn a player can choose to pass, exchange tiles, or play his tiles on the board. Click here for a more detailed explanation on the rules and game play.
Creating/Choosing Games
There are several ways to start games in Scrabulous. You may choose to Create a New game, Host a Table, Join a Table, Browse through your friend list to see who else has it installed or peruse a global directory of Scrabulous players. Regardless of which method you pick all games come with the same options that are chosen on creation.

Opponents aside, you must choose type of Dictionary, Game Type, Game Speed, Requests Limit, Request Duration, and Notes.
Dictionary: English SOWPODS, English TWL, Italian, French. As promised here's the explanation of SOWPODS and OSPD. Although for Scrabulous the only 2 dictionaries that apply are SOWPODS and TWL.
SOWPODS – The term was coined to cover the convergence of the two international Scrabble word sources. OSW and OSPD. It is an acronym derived from anagramming OSW and OSPD. Used in tournament Scrabble in all English-speaking countries except North America, Thailand and Israel
TWL also known as OWL – Official Tournament and Club Word List. This is an expanded version of the OSPD. The words that were included are mostly those which were considered offensive. It is used primarily in North America, Thailand and Israel.
OSPD – The Official Scrabble Players Dictionary, a publication derived primarily from Merriam-Webster's Dictionary, but also includes words from four other major college dictionaries. OSPD is exclusively used in North America, Thailand and Israel
OSW – The Official Scrabble Words, a publication derived solely from the Chambers Dictionary, published in Scotland, OSW is exclusively used in the UK.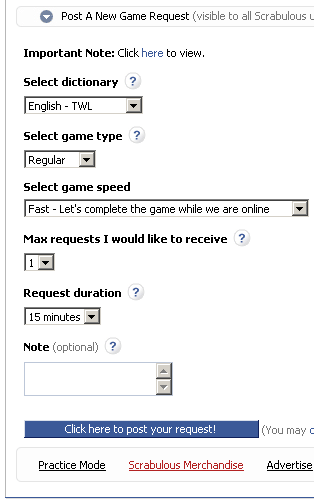 Game Type: Regular or Challenge. A Regular game removes the option to challenge your opponent and instead gives you an automatic word checker that will validate any word played upon submission and reject any word not in the dictionary. There is no penalty for invalid words and the player can continue until a word is accepted. Players may also use the dictionary tool in Regular games. Challenge games afford the players the opportunity to play any letter combination they want leaving the checking up to you. When you do challenge a player you feel is playing a fake or misspelled word, if you are right the player loses his turn and the points from that round. If you are wrong, you lose your turn. Players may not use the dictionary tool in Challenge games.
Game Speed: fast (users are online and want to play), medium (may take a while), and slow (will play whenever I have time).
Request Limit: You may also choose the number of requests the host can receive, for example if you select 3 your game request will expire once 3 challengers have joined your table.
Request Duration: How long your host request is available, anywhere from 15 – 90 minutes.
Notes: (Optional) Anything you want people to see when viewing your listing will appear here.
Features and Tools
Scrabulous comes loaded with built in cheats and tools. Not only can you play a game where the game itself does your spellchecking, you have a built in word list, a tile distribution breakdown, a dictionary lookup, refresh board, move list, delete/resign, and a quick help link.

Word List: A complete 2 letter Word list for both TWL and SOWPODS game play.

Tile Distribution: A complete list of how many tiles per letter exist. Use this to see whats been played and whats still either in your opponents tray or waiting to be picked up.

Dictionary Lookup: Check to see if any word you want to play is valid! This option can only be used in Regular mode, does not function in Challenge mode.

Refresh Board: Refresh the board to see if there is new chat or if your opponent has played.

See Move List: View complete move list history for your game including each turns point total and your overall total.
Delete/Resign: If you don't want to play a game you can delete or resign. Games with 3 or less moves are deleted and do not show up in your statistics or game history, however if there are 4 or more moves, you will resign and count it as a loss.

Help: Quick links to the game rules, faq, practice mode and feedback
There is also a shuffle button for your tiles, an alphabetical sort button for your tiles, and the ability to spell directly on the board so no drag and drop required. To help with the mathematically impaired, Scrabulous also shows you your score on your current play before you even commit which proves to be incredibly useful for placement comparison.
Under "Completed Games" you can access all your past wins and losses and view the boards as well as the play history per game. Under "My Stats" you can see your rating, how many games you're playing, how many games you've completed, how many games you've won, lost, drawn and your best scoring Bingo as well as your Bingo History. If you want to see the overall Leaderboard simply click "Global Stats". There are a few setting options that you can configure. You can choose to remove your profile from the Scrabulous Users page, select whether or not you want your board by default to show the numbered multipliers, enable a 2 minute auto refresh, and set your default dictionary and game type. If you dont want users to see your online status, not to worry you can adjust that as well.
Cheat Tools?? That's Crap!
So why play at all? Because its fun! Don't believe me? Ask the other 544,985 active daily users. There's a reason why its one of the top performing apps on Facebook! Even with the built in cheats, the game is addictive. Its turn based play allows you to have as many simultaneous games as you choose, at any pace you want. Most importantly Scrabulous educates you. Don't know the word your opponent just played? I bet you're going to look it up and use it the next chance you get.
Some users feel the built in tools cheapen the game, but personally I love them. It allows me to be a little more creative in my strategy and encourages me to find new ways to play tricky combos. Unfortunately because it is turn based, with opponents behind a computer and on the internet, cheating is going to occur. While there are numerous Scrabble word builders available online it still doesn't stop me from playing. The challenge exists regardless of what my opponents may or may not be using, Scrabulous itself challenges me as much as any player does, for every time I play I'm forced to rethink position and strategy to improve my own game. Whether I perform poorly or well, I learn something new every game. And no, for the 100th time, I'm not cheating. I know the word XYSTI because someone kicked my butt with it, and you bet your hiney im jotting down and utilizing words that have decimated my win/loss ratio! If you don't like to lose and have trust issues, get off the internet.