Rating:





Social Networking before Social Networks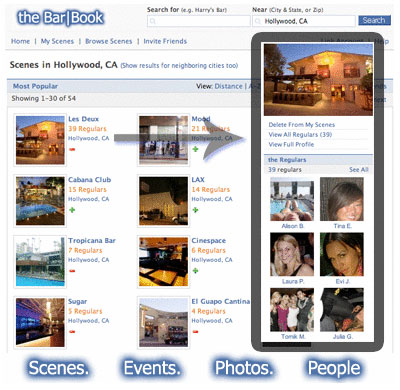 Before there were social networks like Facebook, MySpace, and Friendster we had to network the old fashion way. You know the one I'm talking about, it's the sole reason you have (or had) a liver. That's right — it's time to get our booze on. Now someone pour me another Dark and Stormy!
The Bar|Book for Facebook tries to bring back the good old days by getting us offline and back into the scene. Created by a team of four alcoholic developers, Erik Ober, Will Chu, Paul Kowssari, and Mike Weber, the Bar|Book helps you connect with other Facebook members who are self described regulars at your favorite local bars and clubs.
The Bar|Book has a clean interface that is simple to use and more refined than most Facebook apps. The first thing you do once you install the Bar|Book is set your location if it hasn't already detected it for you. For me it immediately knew I was in Los Angeles, CA. Once your location is set you can begin browsing bars and clubs in your area. Each listing has a photo and description that you can click for more information or add it to your scenes.
Each scene lets you browse a list of regulars by photo, leave comments, and receive events. It is a great way to keep up with what is happening at your local favorite hot spot. There is also a central news feed that keeps you up to date on other things happening on the Bar|Book, including your friends and what's hot.
The Result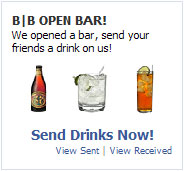 If you're heavy into the nightlife the Bar|Book is a great addition to Facebook. You can connect with the regulars from your favorite spots. They've recently added a new feature for friend spotting that allows you to keep a history of all the times and places you've run into your friends at local watering holes. Just for fun you can send friends virtual drinks, which is similar to some of the other Facebook apps like Booze Mail. The difference being that this is just a feature of the Bar|Book rather than the entire application.
A weakness of the Bar|Book is that there doesn't seem to be a way to easily track your friends. It would be a lot more useful if they provided a tab with your Facebook friends so you can browse their favorite scenes and coordinate your bar hopping. It is probably less useful for those who don't live in major metropolitan areas though as the ratio of regulars to population is fairly low. Luckily for me there were already over 3,000 in Los Angeles, and 4,000 in Hollywood at of the time of this review.
Overall I think the Bar|Book is a great application for Facebook because it helps people with a common interest connect both online and offline. That should be the ultimate goal of any social application, to facilitate and enhance human connections.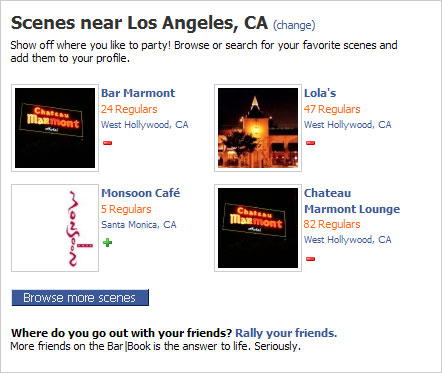 Installed, see you at The Father's Office in Santa Monica!