Nov 29, 2007 in 3 Stars, Facebook, Gaming, Just For Fun
Rating:





It's Hangman. You know the rules.
That's the slogan to the Battle Hangman application by Scott Agass and Richard Matthews that brings the classic game of hangman to Facebook. They couldn't be more right! Battle Hangman is exactly that.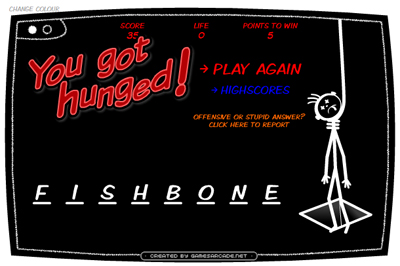 It's just like you remember it, you think of a word or phrase and have a friend try to guess it one letter at a time. For each correct guess you fill in all the characters of the word where that letter appears. For each wrong guess you draw another stick figure limb hanging from a noose. First the head, then the torso, followed by the right arm, left arm, right leg, and finally the left leg. If they guess the entire word or phrase before you draw their entire body then they win. Otherwise they get "hunged" (hanged).
Have no friends? Well you probably don't belong on Facebook but you can still enjoy Battle Hangman by playing against the computer. Soloists aside, this is actually a great way to build up your score.
Battle Hangman provides the person being challenged with a hint by requiring the challenger to choose from a select group of topics that include; Movies, Books, Song Titles, Bands/Musical Artists, Famous People, Places, Landmarks, Catchphrases, TV Shows, and Sports. Obviously if you're a cut-throat winner who wants nothing but points you can cheat and throw in random words, misspellings, or off-topic answers — but that wouldn't be much fun would it?

The point system works like so. Challenge a friend and if they don't solve it, you get 10 points. Solve a challenge and you can earn up to 20 points or as low as 5 points, depending on how many limbs you have remaining. You can also earn a bonus 50 points per friend you invite, but that seems a little bit unfair.
The game is well developed. We didn't run into any technical issues trying to use it. The interface is a little cluttered but not enough to stop you from being able to navigate your way around. The game has cute little stick figure animations that are a nice addition beyond the classic hand drawn game of hangman. You can also keep track of your score versus your friends or compete globally on the leaderboard for the most points.
The Result
If you like hangman you'll probably enjoy Battle Hangman. I probably won't keep it installed just because I haven't played hangman since about the 4th grade and there is kind of a reason for that. There is some fun in the nostalgia of it though. We had a few laughs in the office trying to solve each others puzzles. I definitely suggest checking it out. At least until 6pm when you clock out of work.
_ _ i n s _ a _ _ e d