Rating:






Truphone by Alistair T Campbell and Dean Elwood offers a Call Me button on your Facebook profile. Anyone viewing your profile can call you directly via their computer. Your telephone number will be held confidential and they promise not to sell your number to telemarketers. Best of all it's free*, as in not for long. December 31st it switches over to a premium service. Hurry up and get your free calls in to select countries! They do their best to hide how much the service will cost after December 31st. Personally, I hate this tactic.
My first impressions after installing the app is the nice presentation.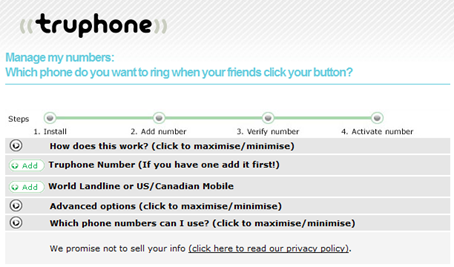 They clearly indicate how many steps are involved in the process and best of all, haven't skimped on the documentation. Everything is explained in great detail (except for prices after Dec 31st!). I find that most Facebook applications fall short of helpful FAQs.
Entering your number(s) is easy, but their language wasn't immediately obvious. I kept on entering my telephone number in the field where it said "Truphone Number" and it kept saying the number didn't exist. After paying a little closer attention, I realized I needed to enter my number under "World Landline or US/Canadian Mobile."

They also have advanced options for adding your Grand Central, SIP, or Google Talk address.
At this point, it loads a Java applet and shortly thereafter you receive an automated phone call validating your telephone number. After pressing '1' it disconnects and you're instructed to click the "Activate" link that appears on the current page.


After completing the last step, I become concerned that something is wrong. The fancy progress bar hasn't changed and I wait for it to update. After all, shouldn't the little gray dots turn to green or some sort of validating color that each step has been completed? Well, don't wait around. You're done as soon as it shows one active telephone number.
Now, a button will appear on your profile that anyone can click to call you.

Of course, the review wouldn't be complete without a test. I click the button and it takes me to an application page which immediately initiates a phone call. I answer it and everything sounds great.
The program couldn't be much easier to use. If you are interested in receiving phone calls from your friends on Facebook, this is not a bad way to go. One caveat is that they never give you the option to restrict the hours/days of the week you wish to receive phone calls. Don't be surprised if you receive an unexpected phone call at 4am. Cheers!
NOTE: If you are a lucky GrandCentral user, I suggest you try out their Call Me button since it'll be free for much longer that December 31st. Don't have an account yet? Try InviteShare to find an invitation. Sorry Truphone, I'm going to install their button instead.