Dec 01, 2007 in 3 Stars, Chat, Dating, Facebook, Just For Fun, Messaging
| | |
| --- | --- |
| Rating: | Rating: |

Since Flirt Wall and Secret wall are so similar, I decided to write their reviews together…
Both of these walls allow your friends to write anonymously on your wall. They both share a very similar feature set. One wall seems to encourage flirting, while the other just secret posts.
They both require writers to install the wall — which I didn't like.
No pictures or videos on either wall.
Flirt Wall has a few extra features like private posts (invisible to everybody but you), it will show your sent flirts, and you can view your friends flirt walls.
Well, these walls aren't a replacement for the wall you currently are using, but if you want your friends to flirt or write anonymous message to you, they're worth checking out.
Rating:






Crap Wall is just like your favourite wall application, but without any of the functionality.
Things you can't do:
Leave messages on a friends wall
Share videos
Spam the newsfeeds of yourself and your friends
Anything at all, except look at the wall
New! You can now write on your own wall. But it's still crap!
Crap wall is obviously a joke. It's kinda funny.

Summary
Well, I reviewed quite a few walls over the past few days. We've seen some good and we've seen some bad. If you're looking for a replacement for the default wall facebook provides, you should check out either Fun Wall or Advanced Wall. I liked both of these, but ended up going with Fun Wall.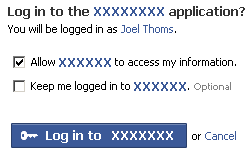 The downside to replacing your default wall, is you'll no longer see your default wall (and all the comments) or you will have two (or more) walls.
Also, when your friends try to write on your wall, they will be prompted to login — unless they also have the wall installed. This can be annoying, but I'm pretty sure all Facebook users are used to seeing the login box by now.
The 12 Walls of Facebook — Part 4