Dec 04, 2007 in 4 Stars, Dating, Facebook, Politics
Rating:






iThink by Raymond Rouf, Himanshu Baweja (and 5 other people) polls the world (e.g. Facebook) about their opinions. After completing the polls, you can compare how you voted with your friends or the entire FB community. If that doesn't get your attention, maybe this will: if you submit the most popular opinion in any 24 hour period you will win $100 USD and 2 other participants selected at random are awarded $50 for agreeing/disagreeing. Not too bad for a few seconds of your day.
Two ways to win: If the opinion you express is voted most popular by the iThink Facebook community in any given 24-hour period, you will be awarded $100. In addition, one lucky winner will be chosen from the pool of everyone who agreed/disagreed with that opinion and awarded $50. Two new winners every day!

Contests start and end every day at 12 midnight GMT (4 pm PDT).
After installing, just start voting. It's that easy. How many opinions you chime in on is up to you.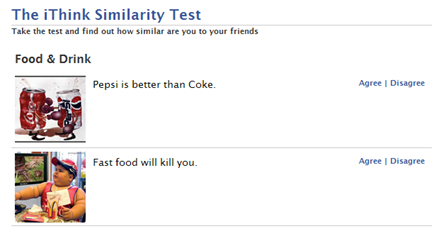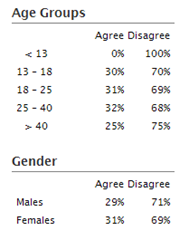 Once you've completed and click finish, it prompts you to invite more friends to compare similarities. This is entirely optional. If you want to just cut to the chase, you can click on the "Leaderboard" or "Opinion" links up top. There are also thousands of more opinion polls you can participate in. Each poll has statistics that break down how people voted by demographics such as the age groups and genders.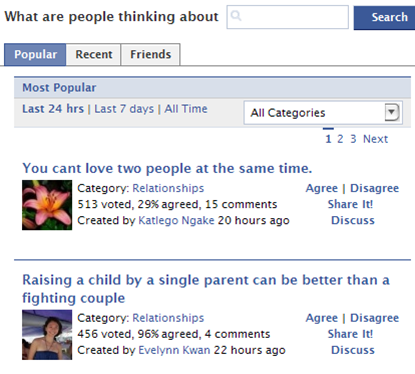 Each opinion comes with its own Wall where you can discuss the opinion in further detail, maybe even convince others to agree with your stance.