Rating:






Family Tree by iFamily, Inc. is a native Facebook application for managing your family tree. Family memebers need not have Facebook accounts unlike some other similar apps for Facebook.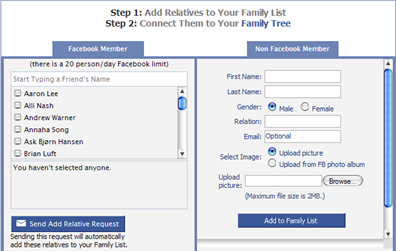 They offer a simple interface to add family members. As you see, in addition to adding existing Facebook members, you can create placeholders for those that don't yet have Facebook accounts (seems like everyone will someday!) Every time you add a family member, it sends out a notice to your news feed.

I did run into a problem, however, after entering in my father using the above form. The Family Tree tab still didn't recognize that I added my father. I suspect this is because they asked me to enter the relation (free form text) as opposed to selecting the relation from some sort of Drop Down list.
Instead, I should probably have used this form to enter my father, but I don't see why they have 2 different forms as it leaves room for confusion.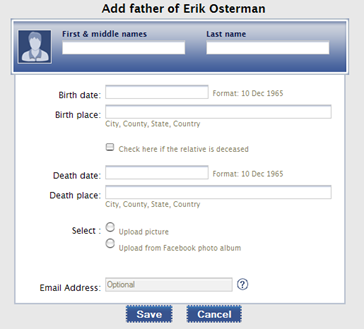 My suggestion is that the checkbox "Check here if the relative is deceased" should only display the Death input boxes when checked. Death is such a negative word, the less it appears when talking about family, the better.
Family members you add appear under a the "Family Tree" tab in a nice tree that you can drag around (Flash). You can elect to have 6 of your family members prominently featured on your profile.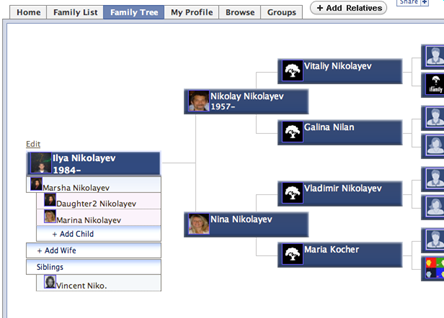 As a bonus, I think it also supports multiple concurrent wives.
There are some more community centric features as well, such as posting family news, browsing family albums, public/private groups for discussion, and a search engine that lets you search for other family members by name and heritage.The application is actively being developed, so expect more features to come. Also, they're growing incredibly fast so expect some hiccups.