Dec 13, 2007 in 5 Stars, Dating, Facebook, Just For Fun
Rating:





My Personality by David Stillwell administers a brief psychological exam that is based off of a real psychological personality questionnaire used in actual scientific research. It offers a brief explanation of your results and allows you to compare your personality to your friends. I answered a minimal amount of questions to get an idea for how it works. You can answer over a hundred questions to get a more accurate psychological profile. As with any app of this nature, treat it truly as Just for Fun. That said, I felt it made a pretty accurate assessment of my personality.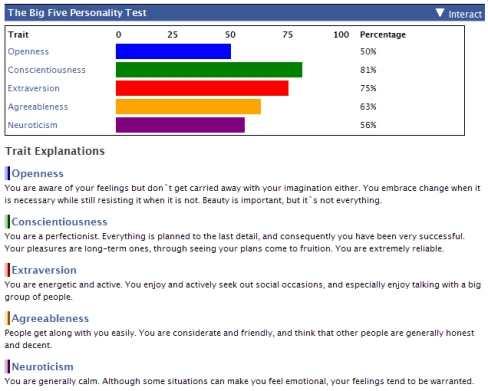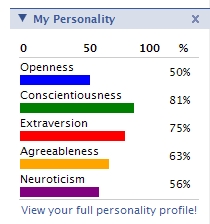 When you're done, it updates your profile with a nice little graph depicting elements of your personality. I really give them props for not spamming my profile page with unnecessaryily large banners. As their about page states,
MyPersonality is against Facebook spam and does not send any newsfeed stories or notifications without your prior approval. That means no mandatory "invite your friends" pages either!
You're results are by default public and listed in their public diretory. Privacy settings can be changed to be more restrictive. Not only that, you can delete your personality profile, a feature most apps overlook.
Clicking on the "Compare to Friends" tab reveals my girlfriend is my soul mate! That's a nice start. They apply a more involved formula for calculating your similarities, so it's not just based on averages.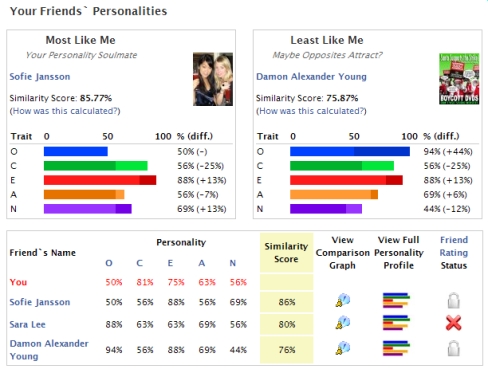 What makes this app also useful for dating is they offer a comprehensive personality search engine. You can find personality twins or specify you're own criteria such as selecting from different personality traits (Openness, Conscientiousness, Extroversion, Agreeableness, Neuroticism) or various adjectives like calm, sensitive or reliable (many more). A quick search for my own personality twins pulled up 40 or so in my network.
I had a lot of fun playing with this app and would highly recommend it.
Installed