Nov 22, 2007 in 4 Stars, Facebook, Photo
Rating: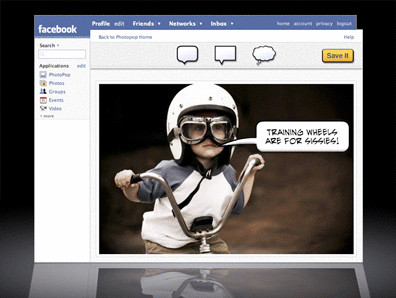 PhotoPop is a simple and fun application that allows you to add speech and thought bubbles to Facebook pictures.
You can "PhotoPop" any of your Facebook photos or photos of your friends.  The interface is quick and easy to use.
There are a few (minor) things I expected and didn't see in this application.  I tried to create multiple bubbles on one photo — you can't.  I couldn't find a way for a friend to browse the PhotoPop gallery I created — they can only browse what you publish on your profile (which is limited to 4).
Though that's all minor, and hopefully they'll add those features soon 😉
It only takes seconds to make your friends look like tards.  This application gets my approval.