Dec 10, 2007 in 2 Stars, Facebook, Just For Fun, Utility
Rating:





TopNetPix provides a way of efficiently displaying all your favorite links on your profile as a cluster of Favicons. When you click on any one of the icons, it takes you to the site. Another feature is that you can link all social networking profiles to your Facebook profile (e.g. Friendster, LinkedIn, MySpace, Hi5).
The interface is real easy to use. They also provide a lot of preconfigured links like (Google News, CNN, The Onion, etc.).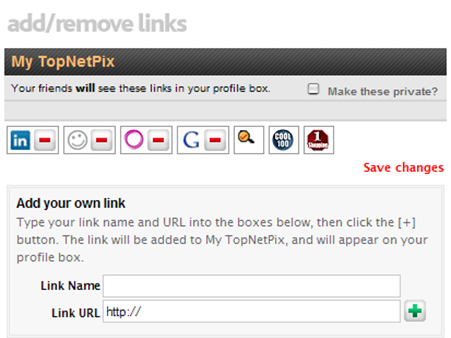 If this is all it did, I would be happy with the application. The problem is they automatically add 3 of their own links as my favorites. But they aren't my favorites. What's worse, they don't even let me remove them. I really, really don't like any application misrepresenting my endorsements.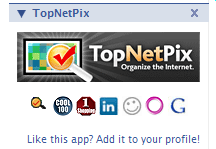 See those first 3 links? I didn't chose those. More over, I don't endorse them. Also, I'd love if they got rid of their top banner, which just takes up unnecessary space. If a person likes the app, they can click on the link below the icons.
It looks like this app was just designed to drive traffic to their other properties and not to enhance the Facebook user experience. For this reason, I promptly uninstalled the application.
Uninstalled