Dec 13, 2007 in 4 Stars, Facebook
Rating:





Flirtable by Frengo is the ultimate Mass Flirt application. The way it works is simple: for every friend you invite, you get 20 flirts; for every profile you view or message, you get a single flirt; but for every person that flirts with you, you get 50 flirts! Flirts are like a currency. The more $$$ you have, the more people will notice you (the more your profile will be shown).

Users can customize their profiles by adding a custom tag line and selecting who they are interested in flirting with, such as Women aged "20-25". Noticeably missing, however, is the ability to restrict the proximity of your flirtation. So, you might meet the girl of your dreams, but half way around the world. Guess that shouldn't matter too much!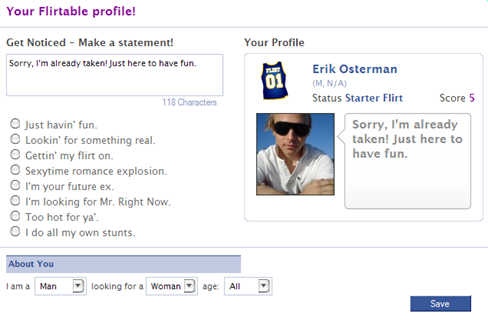 Their application screams. No lag whatsoever. You can quickly flip through hundreds of pictures just by clicking flirt or skip. Clicking on "Flirt" doesn't require you to send any messages. It just adds the person to your list of flirts.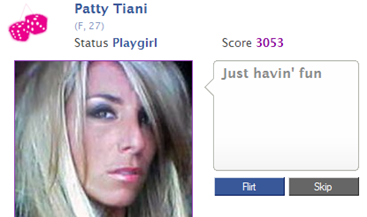 There's not too much I would change about the application. It works really well as it stands. One thing that is ridiculously obnoxious is that they flood your mini feed EVERYTIME you send a flirt. In the future, I hope they add support to limit profiles by proximity and add more profile options to set yourself apart. Also, a "back" link would be nice, if you were a little quick on the trigger.
Installed