Rating: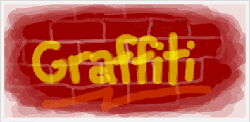 Ranging from masterpiece paintings to the random scribbles in your notes, we all like to draw. Whether you're good at it may be a different story, but everyone can relate to the basic desire to doodle. Take all of this into account and give it a digital medium accessible to the millions of Facebook users and you have Graffiti. 
With 234,239 daily active users only 4% of total, creators Mark Kantor, Tim Suzman, and Ted Suzmanhave created one of the most popular applications on Facebook. Kudos to them, not only is it popular, but its fantastic usability and functionality create for a bonafide interactive utility.
Basic Facebook Settings
As with most apps on Facebook, Graffiti comes with its own settings. They do a great job of keeping it nice and simple giving you 4 different options to modify.
Number of Graffiti to show on your profile – presently you can only place Graffiti in the main column of your profile and not the left column
Email Notification of new Graffiti
Who can see your Graffiti Wall
Who can see the page of graffiti drawn by you
The Interface – Lets Draw with Graffiti
It's simple, you have your canvas and below it are your drawing tools. There isn't a lot of complexity to it which I like, it is in fact pretty intuitive. You get to use and choose from 216 available colors, about 9 different brush widths, and the option to choose the opacity of your strokes. There is a simple preview of your brush size and color so you know what you're working with before you hit the canvas. Made a mistake? Well that's okay too because they have an undo button that retains virtually the entire history of your strokes, allowing you to go back quite far if necessary, there will be no fait accompli here! If all else fails, you can simply start over with a click of a button.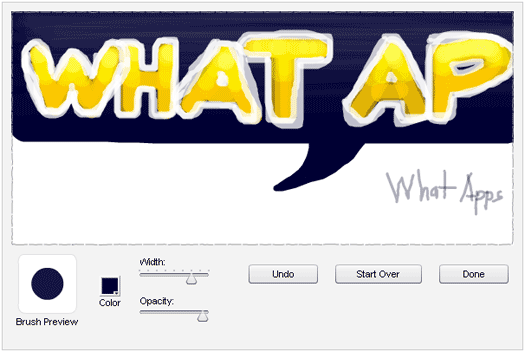 Once you're finished with your Graffiti piece you simply click Done and voilà! The coolest feature hasn't even been unveiled! All things final, you can watch what you created in replay mode unveiling the work of art step by step before your very eyes. I don't know about you but I love time lapsed viewing. Like what you see? Take one for the road, Graffitiprovides you with an option to print from the screen. Like all things great in Facebook you can always "share" it and post it to your profile.
There isn't much missing from the bare bones aspect of the application. It gives you all the essentials you need to get in and start drawing. The developers stay very active with their users and are quick to discuss what they're working on. Here are a few important features coming soon:
Save Button – presently there is no save so you create long pieces of work at your own risk, if for whatever reason you lose the page, you lose your work.
Comments – everyone loves to leave their own words behind wherever they go. Great way for users to offer praise, disapproval , or feedback. Don't we all just love interaction and social contribution?
Features I'd Like to See
I would love to see an option for different brush shapes, and even a shape marquee would be interesting. While the native tools are probably more than enough for the more talented users the option to have pre-established shapes might prove useful for the less skilled. I'd also love to see a color wheel to have colors beyond the provided 216. Lastly, I'd love to see a type tool. While I know the idea is to draw your message or your picture, sometimes it would be nice to be able to have some type in there that looks better than a 2 year old writing with his left hand.
Community & Contests
With a Public Gallery generated from content submitted and rated by Graffiti users, not to mention sponsored prize winning contests, a community of contributors and artists alike have helped turn Graffitifrom just an app you install on your Facebook page to an app that comes with a large collection of talent, artwork, and collaboration. To me this is what interactive usability is all about.
With over 5,500 entries and 500,000 votes cast, Graffiti completed its first "Monsters" contest with prizes sponsored by Wacom. Among the community of Graffitiusers battles wage between those who draw with a mouse, and those who have aid via Pen and Tablet or Tablet PC's. There's even emergence of the touch-pad users who boast skill using an unconventional mouse solution for artists. Regardless of the methods used by the creators, the coveted grand prize was an Intuos3 Special Edition Tablet and several Wacom Bamboo Tablets for individual category winners.  Users voted for their top 150 entries and a panel of judges chose the final winners.
| | | |
| --- | --- | --- |
| | | |
| Best Overall | Scariest | Cutest |
| | | |
| Funniest | Creative | Most Teeth |
Among your friends or among strangers, the ability to share creations gives depth to the user-base and substance to the application beyond just number of installs. Take a look at some of the top rated submissions from Graffiti users
Graffiti will be implementing a Wall of fame in addition to new contests. Nothing like incentivized participation to spark the creative engine in everyone for either a physical prize or bragging rights and notoriety. If you don't have Graffiti installed yet, get to it and get your doodle on!