Rating:





College Admissions by Max Hodak is designed to facilitate the research process of finding the right university for you. The application clearly has a target audience of US high school students. I'm not sure if the application is US only, but it appears to be that way.
User's are encouraged to fill out their College CV (Curriculum Vitae). It gives the over achievers some bragging rights amongst their friends, but more importantly to provides the data necessary for the analytics screener to match you up with a college.
Unfortunately, the search functionality is a bit weak. I searched by name for UCLA, University of California Los Angeles, or by location Los Angeles and it returned 0 results. If I just search by state (CA), then UCLA shows up along with every other location that has the string CA. For a site geared towards finding colleges, it seems like the search functionality has been overlooked.
Here is the search for CA.

Clicking on one of the universities, brings up extensive statistics.
For me, the most interesting feature of the application is their Analytics Screener. It lets you systematically search for schools that meet your criteria, such as the U.S. News rankings and acceptance rate. It then pairs it with the information you specified in your profile to come up with scores that describe your chances of acceptance. I think it would be beneficial if there were some sort of legend on the page that described exactly what the statistics mean. In this example, however, it's not able to provide any useful statistics because I haven't yet completed my user profile (I can't remember what my SAT scores were 10 years ago!). I'll post a screen shot of what they would look like as soon as Max sends one over..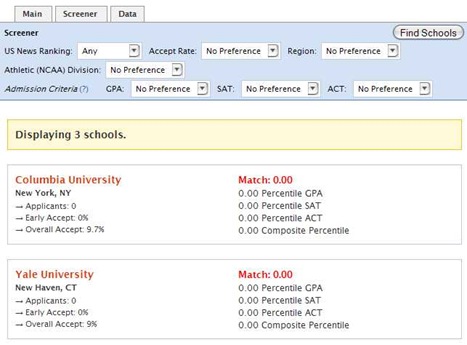 While I like the application's premise, it's has a little bit more to go in terms of usability. It's still in an early beta, so I expect to see more improvements in the near future. Overall, I feel the application is a bit cluttered; it presents too much information on the main page and a lot of unnecessary white space in other places (which is a problem when your on a small 13″ laptop screen). With a slight overhaul such as adding tabs, fixing search, adding more language that better describes the statistics, it would probably meet it's desired audiences expectations.