Rating: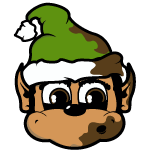 Twisted Christmas is yet another one of those "send virtual gifts to your friends" applications… but of course, with a twist.
You select a character that best represents you. I chose Choclato.
This app doesn't have an "invite friends" feature like the others… you go Christmas caroling. You select your from a couple dozen different Christmas carols (Christmas YouTube videos), select your friends and it will blast out the video to them with their invitation.
There are also a few dozen different gifts you can give to your friends. They vary from the standard candy cane to the gift I sent my girlfriend — yep… poop in a box. I'm expecting something special in return.

poop in a box
There's not a whole lot of depth to this application and you'll most-likely uninstall it after xmas. But the cute graphics they have make it fun and hey… it's almost Christmas.